In this article, Sharktower CEO Craig Mackay shares key issues and opportunities around business agility, and how you can develop your organisation's culture to support it.
Craig covers:
The need to develop a data-driven culture to respond to change

What large organisations can learn from successful start-ups

How to leverage data to increase business value
First up, why the need for Business Agility?​
​We know every industry is experiencing the disruption of the digital and data revolution.​ As consumers we're increasingly demanding; with brand loyalty reliant on us feeling that companies care and adapt to our changing needs, based our overall experience and not just the products we buy. ​
According to EY's 2018 CEO Imperative Report 67% of global chief executives agree that "acting with agility" is the new currency of business, and if their businesses are too slow to respond to consumer needs, they will quickly become irrelevant.
​Our markets are becoming increasing volatile, uncertain, complex and ambiguous. That makes it easier for challengers to rapidly enter the market and provide consumers with more choice than ever. For incumbent large enterprises, that represents real risk and challenge to their position as market leaders.​
​And if the need for business agility was already high: it's now through the roof as we respond to global disruptions and emerging new ways of working.​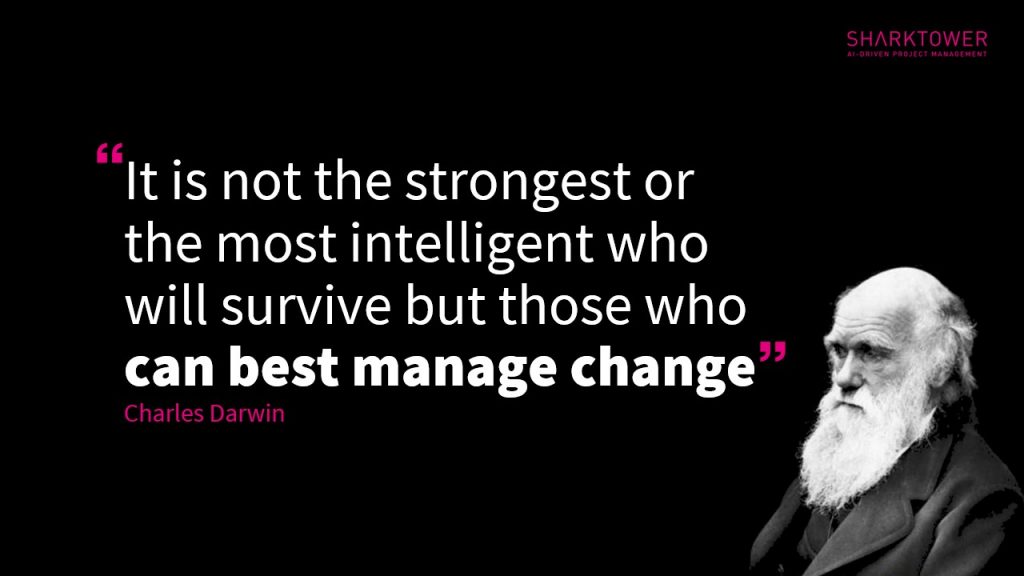 Major crises, disruption and recessions of course bring difficult times but they also bring some of the greatest leaps in innovation, changes in consumer behaviour, and see a rapid rise of new global leaders into the market.
As we emerge from the current situation and understand the new models that will emerge with us, every industry will be disrupted and even traditionally non-digital businesses are quickly switching to embrace new solutions and distribution channels. ​
As organisations respond and recover from disruption there is a greater imperative to be able to adapt quickly and be pivotal in how they deliver change. ​
So why's this change not already happening in every large organisation?
Large corporations are generally very good at statistical analysis and process control. They have good understanding of their historical capital/P&L levers, supply chains, customer demands and comparable markets trends. In stable conditions, that allows for a good level of strategic analysis and longer investment case definition. ​
So in the past, with less market disruption or challenge and slower rates of growth, it wasn't so much of an issue. But when it comes to making responsive decisions or delivering pivot change in today's world they're not so successful.​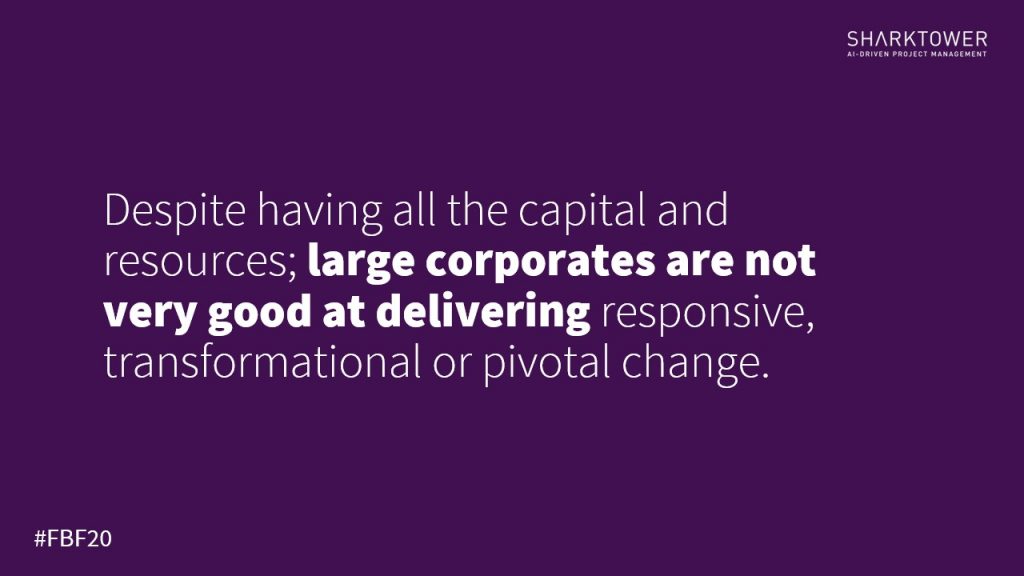 ​
The biggest barrier to business agility is rarely capital, skills, technology or innovation (this is continually proven by the rapid rise of challenger brands with limited resources). ​Instead, larger organisations are often constrained by their legacy culture, lack of overall insight and inability to make decisions. And the ingrained structures of the past create silos and a culture that is built to avoid risk.​
When I talk about business agility, I'm not talking about agile development or project methodologies. I mean an organisation's ability to efficiently deliver pivotal change in response to new demands and disruption. ​
In that case, should large corporates learn from start-ups?​
First we need to ask why it is that smaller, start-up organisations – with less resource and experience – are able to deliver better outcomes. Well, it's partly because they're change organisations by nature. Few have project managers or formal change management, but they still succeed.
"The number one advantage of smaller businesses is that everyone is generally aligned to the critical numbers, so the whole team is data-driven."
​ If large corporates aren't great at change, should they learn from innovative start-ups and challenger brands by embracing a fail fast mindset?​ Well, no, not exactly. Large corporates can't risk significant failure (think scale, shareholders, employees, economy). But then again, can any business?
Ultimately, 'Fail fast' is a bit of a myth. No organisation wants to fail. What successful start-ups and challenger brands are really good at is experimentation, learning fast and iterating to increase their probability of success. ​
​Where successful start-ups seem to have the advantage over large corporates is in their data-driven decision-making ability through having:​
Absolute clarity and alignment on required outcomes​
Transparency of the business's critical numbers​
Incremental testing of a solution's ability to deliver required results​
Constantly refining and informing strategic objectives​
Culture of being data-driven across the entire business​
The number one advantage of smaller business is everyone is generally aligned to the critical numbers of the business, and by default this makes them data-driven. Their whole business is a constant 'change project', which creates environments that can address complex adaptive problems and continually iterate their products and services for the highest possible value.​
The Business Agility data challenge
If we are being innovative, transformational, pivotal then the things we are trying to achieve are most likely new to us. We're trying to deliver the best possible outcomes in the context of ambiguity and disruption, which – by its very nature – will require risk taking.
At that point, you can't possibly have certainty and control. Far from it. If you could, it would be business as usual delivery.
Being responsive in this way means making hundreds of decisions all of the time. Which brings with it our natural resistance to change. Leading others through this is even harder.​
The confidence people have in their beliefs is not a measure of the quality of evidence but of the coherence of the story the mind has managed to construct.
In his book 'Thinking fast and slow', Daniel Kahneman puts it perfectly:
"The confidence people have in their beliefs is not a measure of the quality of evidence but of the coherence of the story the mind has managed to construct."
​It highlights how every time we are asked to change course or opinion we have to overcome the stories and cognitive biases our brains have constructed to give us comfort.​
​Decision-making is key and becomes more challenging during periods of stress, where there is a lot uncertainty about the future. This requires an empirical approach that is based on constant observation, learning and adaption. And for that, the use of data is critical.
If you want a simple data-driven maturity test for your organisation, just listen out at your key decision forums and meetings for how many times you hear "I BELIEVE" vs "I KNOW".​
What difference can data make?
We can't possibly compute and make all the decisions being asked of us. Without supporting experience and data points we can only make subjective and gut decisions, and that's an incredibly stressful way to work.​
​So in a volatile world, with disruptive markets; if every change appears to be a risk, is data the silver bullet answer?
​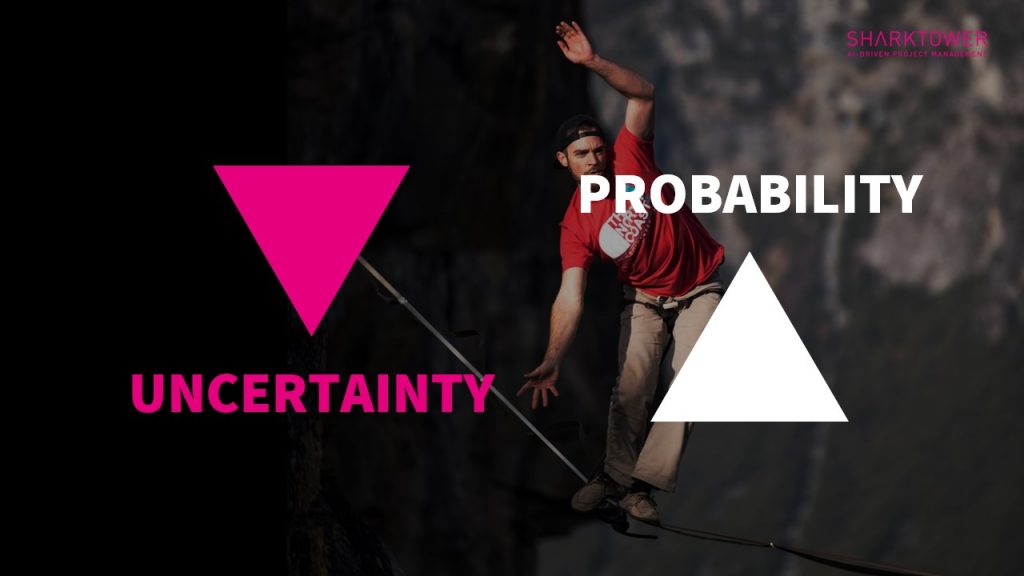 The right use of data reduces uncertainty and increases probability
Expectation setting is key, there are legacy data constraints to overcome that mean you can't just throw hundreds of data scientists at the problem and except absolute answers. But starting to unlock the data insights we can derive today will help us reduce uncertainty and increase probability. ​
​It can give us the confidence (and reduces the stresses and frictions) to become:​
Faster from insights to positive intervention and decisions​
Able to spot problems before the occur and easily navigate issues​
More decisive in starting, stopping or pivoting when required without delay​
More responsive in flexing investment to focus on the most important outcomes​
​Our aim with data science and augmented intelligence should be to replicate the intimacy and intelligence of small organisations at scale.​
​Data is the new competitive advantage. Organisations that embrace data to understand their customers, predict new trends and continual adapt their services will thrive in response to crisis. To remain successful, we need to underpin every aspect of the business, providing critical input to re-adjust plans and predictions, as well as guide and automate decision-making.​
How to get started
These are some key areas of focus that I believe are required to leverage your data, improve your business agility and become as pivotal as start-ups but at scale.​
Focus on transparency to remove siloed and subjective data to increase shared accountability and trust in data.​
Manage expectations but don't be held back waiting for 100% clean data and robust answers. Start now and create the pull for more insights.​
Invest in data education and storytelling capabilities across the organisation to increase data literacy and build a data-driven culture. ​
Continually iterate data infrastructure, quality and automation for faster insights and more robust data-driven decision making​
Utilise machine learning to find unseen insights, navigate the noise and use as indicators of where to look and best focus your efforts.​
Create frameworks that constantly observe what is being delivered and evidence against continuous customer feedback to constantly test innovation​
See Sharktower in action
Want a personalised demo of how AI-driven project management can support agility in your business?
Hit the 'REQUEST A DEMO' button or email info@sharktower.com