Across every sector, organisations are under ever greater pressure to digitise services, scale innovation, and create new revenue channels.
In particular, a research report from software company Mulesoft caught our eye, stating that the need for IT innovation has taken on a new level of urgency in the post-pandemic world.
The report identified two key challenges:
Only 37% of IT teams were able to complete all the projects asked of them in 2020, and they are being asked to complete 30% more projects in 2021.
On average, IT teams spent 68% of their time running day-to-day business activities. This remains virtually unchanged from 2020 (69%) and indicates the need to increase IT bandwidth for future growth and innovation-led projects.
So how can intelligent delivery software help?
With the pace and scale of change growing rapidly, and the pressure on delivery teams increasing, those leading these change programmes can no longer rely on outdated spreadsheet-style plans and manually-created reports. For transformation to succeed, the tools have to work harder; enabling teams to create and communicate plans clearly, work towards visible objectives and make fast decisions based on live data.
It's not about replacing people. It's about being able to deliver complex business change in a more robust, consistent way. And that's where intelligent software comes into its own.
How Sharktower helps teams deliver better outcomes
Interactive, data-driven plans the whole team can understand
Human brains process images 60,000 times faster than text. So when you need the whole team to understand and engage with a project from day one, visual planning is the way forward.
Sharktower's interactive Delivery Map lets you draw out every aspect of a project in a series of colour-coded, interlinking activity lines that reflect real-life collaborations and dependencies.
And it's not just a pretty picture. Behind the Delivery Map, every line and node is connected to real project data that knows (and shows) when deadlines are at risk.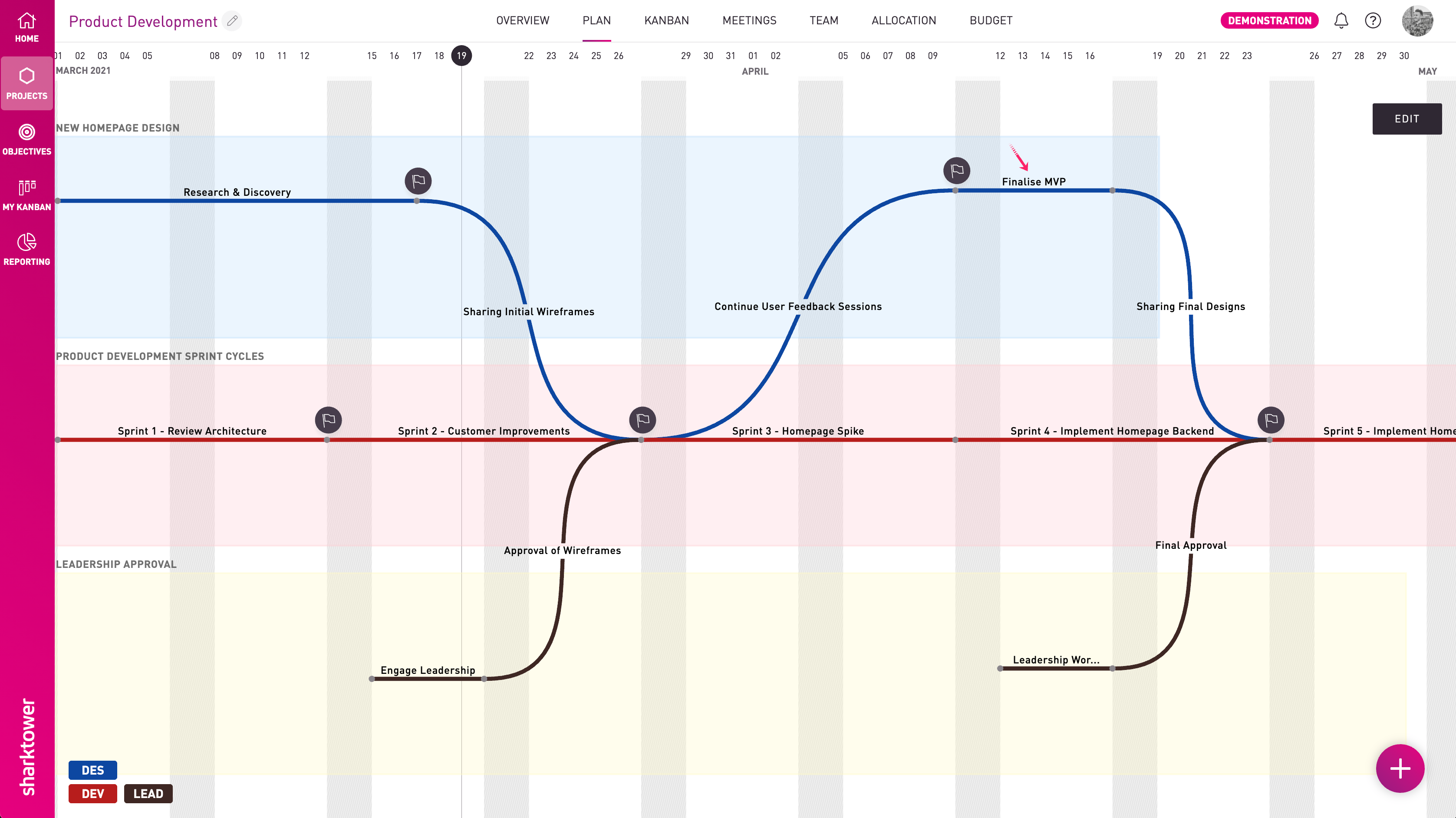 Sharktower's Delivery Map is a ground-breaking new way for everyone involved in the project to easily visualise all the moving parts.
Shared goals and visible objectives
Many projects fail not through lack of budget or resources, but because the team has no shared focus or clear objective to work towards. Sharktower solves that.
When your entire project lives in one connected platform, everyone has the same daily touchpoint. And when that platform allows you to assign tasks that are linked to objectives which are then linked to business outcomes, everyone knows not only what they're doing but also why they are doing it.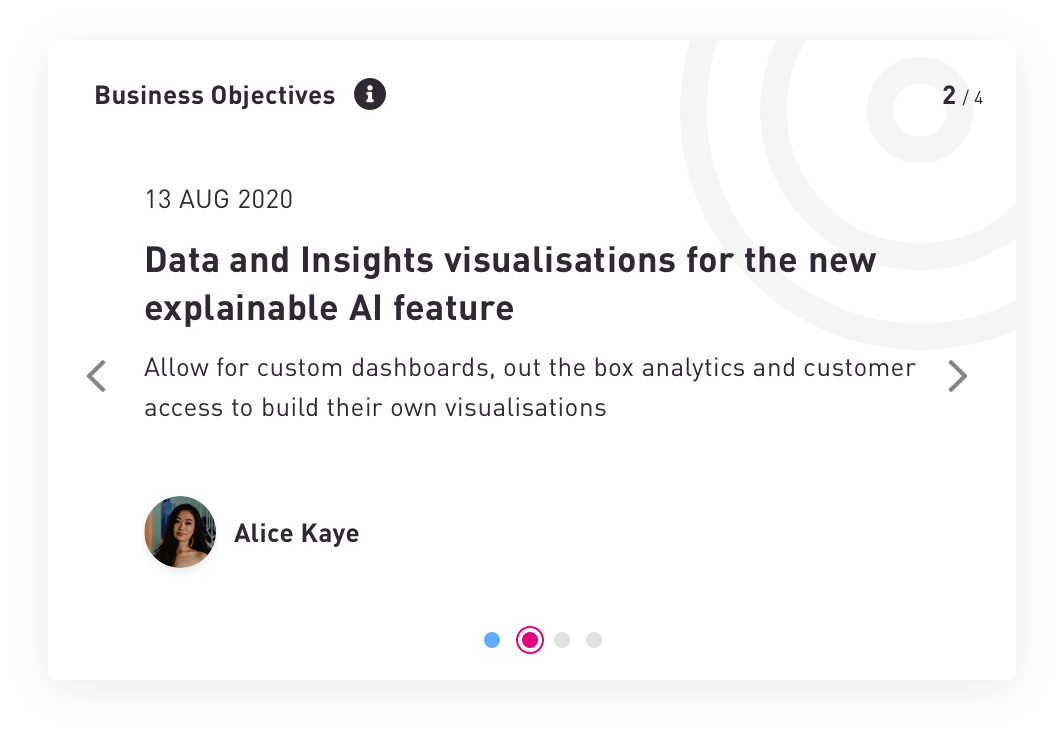 In Sharktower, every activity can be assigned to an owner and linked to a strategic business objective
Real-time status reports and insights
We all know reporting is important. But when multiple project managers repeatedly spend hours creating manual reports (and the resulting data's already out-of-date), it's time to go automated.
Sharktower's real-time reporting dashboards give you live project data and insights; enabling you to make fast, informed decisions when things need to change (let's face it, at some point they always do).
Save time, identify risks, take action.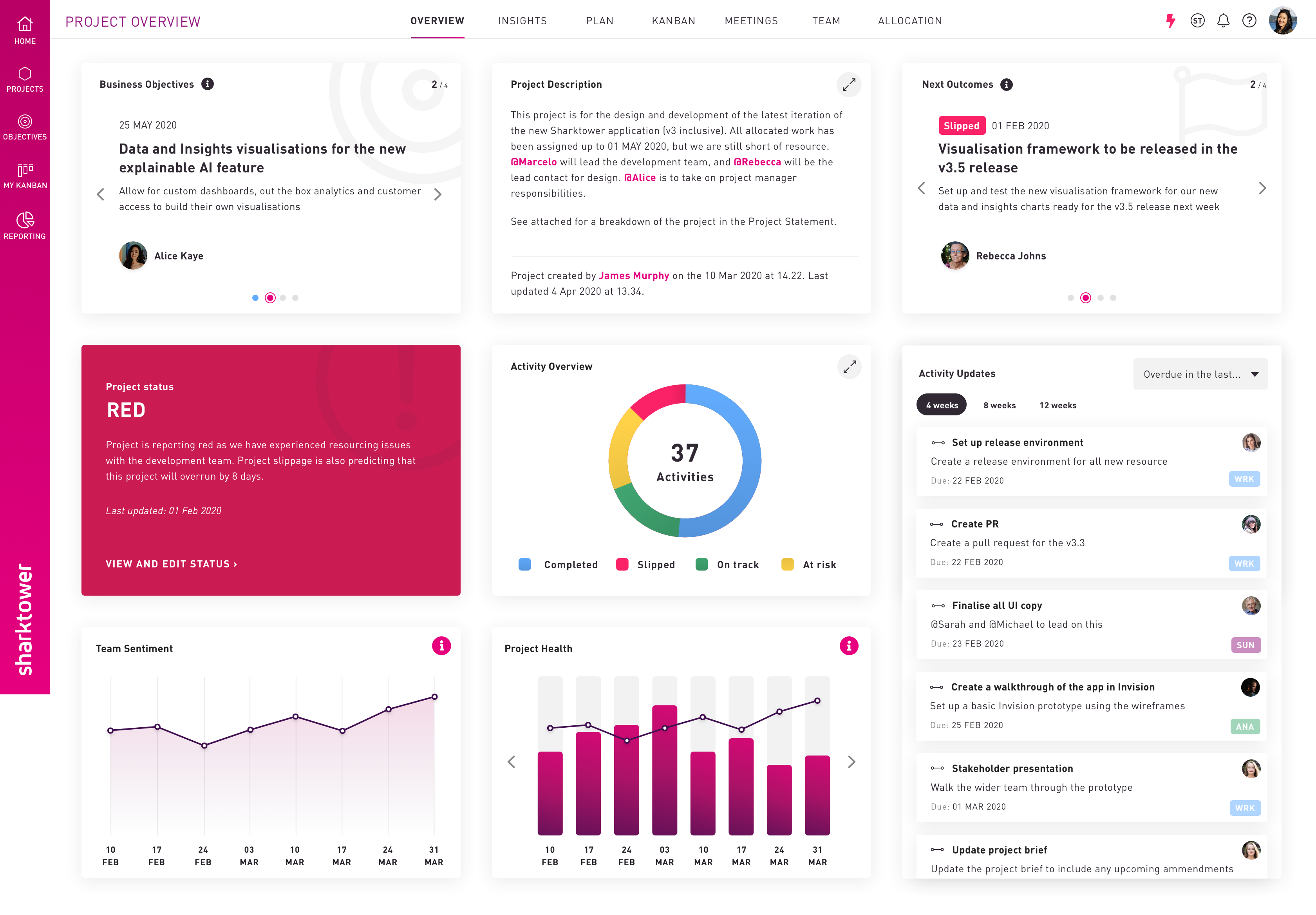 Sharktower's project overview shows project status, team sentiment, objectives and outcomes at-a-glance, along with a full list of related tasks.
Find out more
You can read more about these features and others in our article 'Delivering the future: how to run, manage and measure projects for better results'.
Book a demo
To book a 1-2-1 demo of these features, just REQUEST A DEMO and we'll get back to you to arrange a time.