When you're trying to deliver the type of continuous and complex change businesses need to succeed and grow, outdated offline project plans are no longer good enough (Gantt charts, we're looking at you).
That's why we created the Sharktower Delivery Map – a ground-breaking new way for everyone involved in the project to easily visualise all of the moving parts.
This collaborative project plan recreates planning sessions where you could draw a visual map on a whiteboard. It's interactive, so even remote teams can be fully engaged in creating plans, which means everyone's on the same page from the get-go.
You don't even need to be project management experts. The map's intuitive open structure shows how everything fits together, so everyone can see what needs to be done to achieve the desired business outcome.
A major benefit is that you no longer have to rely on that one person who created the Gantt charts and project timelines in a document or tool you can't access. It is the single source of truth. No more delays while the plan is explained to teams and stakeholders. No more time wasted while the plan is revisited and updated every week. (Does anyone look those updates anyway?!)
"You can't update progress in MS Project quickly enough. By the time you update it, the project's already moved on."
The best part? The Delivery Map becomes an integral tool for managing projects and delivering outcomes. Zoom out to see the project on a page, zoom in to see start and end dates as well as any dependencies.
You can open the whole plan, or any part of the plan, in Kanban view to see tasks, decisions and user stories. Move them as they progress, add more, request updates, add notes, and manage meetings and stand-ups – all from within Kanban board.
The Delivery Map is the anchor, connecting all the project data together, and a living visualisation of the project throughout delivery.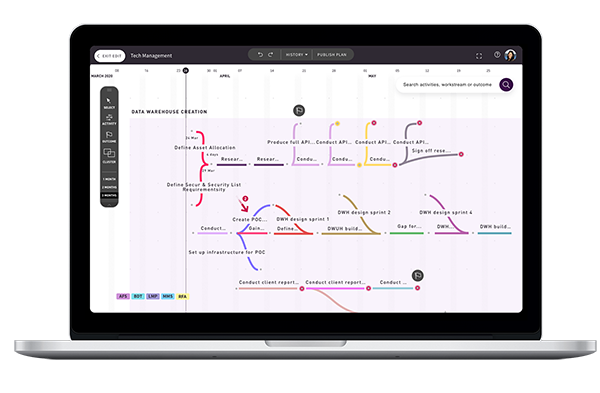 H
ow it works
For a quick tour, let Sharktower's Head of Marketing Nikki Horwood walk you through the basics, step by step.
Creating a new project plan
1. Outline the high-level phases
In the map, the high-level scope or phases of your project are captured in activities, with the lower-level scope being defined as tasks or stories under each activity.
Start by mapping out the high-level phases (activities) of the project. Let's say you're delivering a new website, the high-level phases might be:
Planning and scoping

Architecture

Design and Content

Build

Testing and sign-off
This is one aspect of Sharktower that's unique. With every other project management tool, from Excel to Asana, you have to begin by listing out all the tasks with start and end dates, and drawing dependencies between them. But why would you start planning out the detail before you've even thought about the overall scope?!
To create each activity in the Delivery Map, you simply click where you want the activity to start and draw out a line to the desired length (proposed end date). Then add details to the activity as follows:
Activity name (in this example, "Planning and scoping")

Description

Workstream (your pre-defined 'teams' such as Product Development, Design, R&D, Marketing)

Assignee (it's important to assign an accountable owner, even if they're not doing the actual delivery)

Comments (any collaborators in a planning session can add comments and tag people)
You can now add tasks, decisions and user stories to the activity. But let's carry on mapping out the high-level activities first.
Draw out your next activity line – in this example, to represent the website Architecture phase. Snap the start node into place at the end of the preceding activity. Activities can be moved by selecting either of their end nodes and adjusting accordingly. They can also be disconnected and re-connected easily, as they snap into place.
Continue drawing out all your activities until the map is complete, working with the whole team to visually assess how everything fits together in the bigger picture. If you need to flex dates or move activities, you can still move them while they're connected to other activities, and they'll flex accordingly.
Some of your high-level activities are likely to have key milestones or outcomes. You can add an outcome to the end of any activity. For instance, at the end of the website activity 'Testing and sign off', you could add outcome 'New website live', which will appear on the map as a flag.
Now you've got the high-level phasing of the project planned out, it's time to publish it and get into the detail.
But first, stand back and admire the team's creation.
The Delivery Map uses shapes, colours and unique curved 'branches', in the same way that a mind map does, to help simplify complex plans. It also makes them easier to read, encourages open thinking and allows you to create beautiful and memorable plans that entices the team to jump in.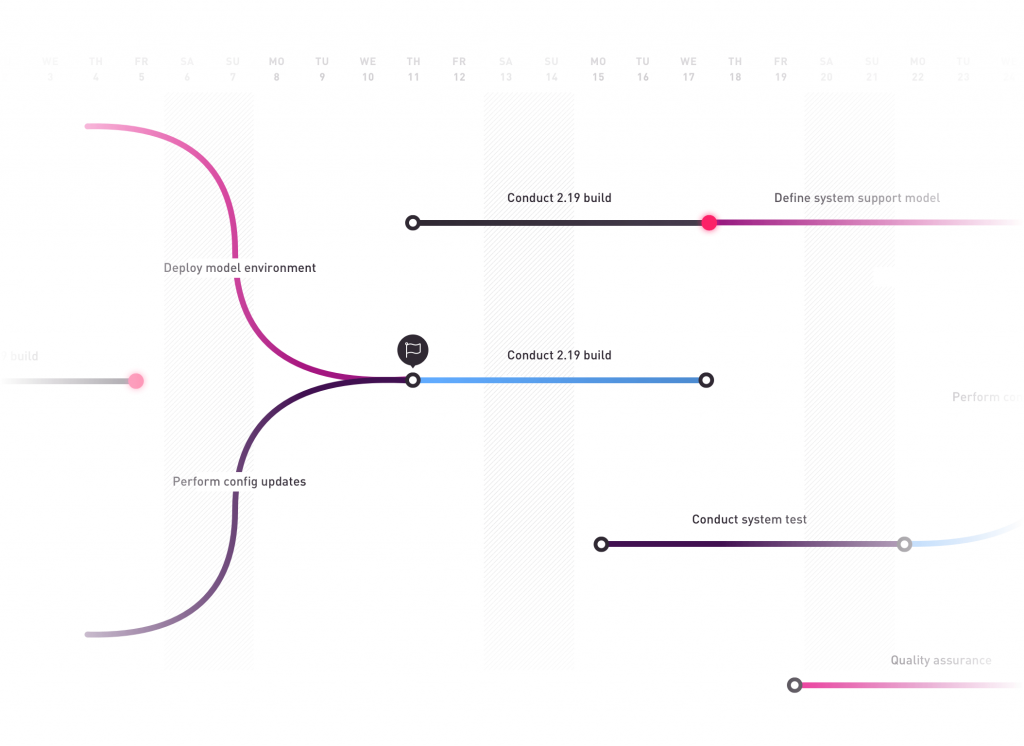 2. List out all the tasks needed to complete the project
In order to successfully deliver each activity, you'll need to create a list of everything that has to happen throughout each phase, all the way to the final deliverable. In this example, the new website is launched.
Any task that will help you get your project completed on time and on budget – however big or small – should be added, and the whole team should be involved in defining them. Add tasks to the activity (order isn't important here) and enter a task title and description, due date and status, then link to an activity or other items as required. A key feature of Delivery Map is that you can add decisions and user stories to activities, as well as tasks, which can be easily referred to later.
Some tasks can be worked on simultaneously, but others will be dependent on another task, which is where you can use task linking to illustrate the dependencies. As well as task-level dependencies, Sharktower also has a cross-project dependencies feature, which allows you to call out where you have dependencies on activities in other projects and means you can connect project activity within portfolios.
When you set up cross-project dependencies, the owner of the connected project will receive a notification to alert them to the new dependency. And if the RAG status of the dependent activity changes, this will be reflected in the dependency icon in your plan, so everyone can see blockers clearly before things overrun.
3. Link your project goals to overall business objectives
Most projects are created in response to a business need or strategy, so it makes sense that the project goals should be clearly linked to business goals. (Studies show a dramatic increase in both employee and business performance when an organisation links individual goals to the company's overall strategy.)
In Sharktower, this linking is easy. In step 1, we described mapping out the high-level activities of the project and that some activities would have key milestones or outcomes. These outcomes can be thought of as milestones on the journey to achieving the business objectives and can be linked together in Sharktower.
In the 'new website' example, a typical linkage would be between the outcome 'New website live' and a business objective such as 'Accelerate customer acquisition'. These are displayed on the Overview page with your real-time status and drill-downs to the linked activities and tasks – a great way for stakeholders to understand the key milestones, and for everyone in a project team to feel more connected.
Watch a walk-through

Our Walk-through Wednesday sessions are a great way to see Sharktower in action. Here's a recording of our Delivery Map session from October 2020.
Book a personalised demo
To book a 1-2-1 demo with one of the Sharktower team, just REQUEST A DEMO and we'll get back to you to arrange a time.