So you want to use data to improve the way your projects are delivered, but do you need more data, or better data (or, most likely, both)?
It's a common problem for businesses that want to become more data-driven, and was a recent topic for discussion at The Project Data Analytics Committee meetup.
The meetup was attended by our Director of Customer Success, Lynsey Taylor, and Committee members had some challenging questions to ask about how Sharktower can improve data quanity AND quality.
Here are six examples that may be relevant to your business. Click on the questions below to read the answers, or view the full meetup recording.
---
---
Q1. Our projects have data in multiple applications, databases, etc. How do I bring all that data together in one place?
"This is something we come across a lot with customers, and it's what we're trying to help them move away from – all those different applications mean you end up with a lot of silos of data and different sources of the truth. What we're trying to do with Sharktower isn't just ingest data from different sources – it's about becoming the single source of truth for project progress by being the tool that is actually used to manage delivery.
When we initially onboard customers we do have to help with that initial ingestion for any in-flight projects, but for new projects, we expect the plan and all the rest of the scope data to be entered directly into Sharktower and updated from there. This means they then have all the data in one place, so that we can learn from it and analyse it, to ultimately help them achieve more successful outcomes on their projects."
"We don't have strict limits on the number of users or amount of data a customer has."
– Lynsey Taylor, Director of Customer Success
Q2: Can Sharktower be shared between a main contractor and subcontractors, or is it for internal use only?
"Sharktower's as collaborative as you want it to be. One of the most important things for us is that everyone involved in delivering projects can and does use it. For everyone to have a shared understanding of the project scope and progress, it's really important that they are all able to collaborate in the same place. This also means we get richer data, which in turn helps our customers.
We reflect this in our pricing too. We don't have strict limits on the number of users or amount of data a customer has. So if you have a company plan, you can grant access to whichever users you choose – internally or externally."
Q3. Can you benchmark Sharktower usage against industry best practices, to show if the customer is "doing it right", or highlight gaps and improvements?
"Yes, that's exactly what we try to do; Sharktower was built with a lot of that industry best practice in mind – whilst also remaining flexible for different methodologies. We have a knowledge base which guides users through the best way to set up a plan, run a delivery meeting, etc. and have in-app nudges to support users throughout.
We also use the data inside Sharktower to produce reports for our users, indicating areas where best practice isn't being followed, e.g. lots of disconnected data in the plan or empty fields such as complexity points on stories, and then work with our customers to understand why this might be and support them in how to 'do it better'."
Q4: Are you able to measure data noise, meaning that project is apparently reporting fine, but in reality there are underlying issues which are being masked?
"Yes, and that's exactly the aim of the project health score. It's the objective complement to the RAG status which is manually set by the project manager. Whilst this, and the supporting narrative is sometimes needed because the PM will have a better awareness of what else is going on (e.g. global pandemic), we believe there is a need for an objective alternative which uses the project data and movement thereof to shed more light on the situation.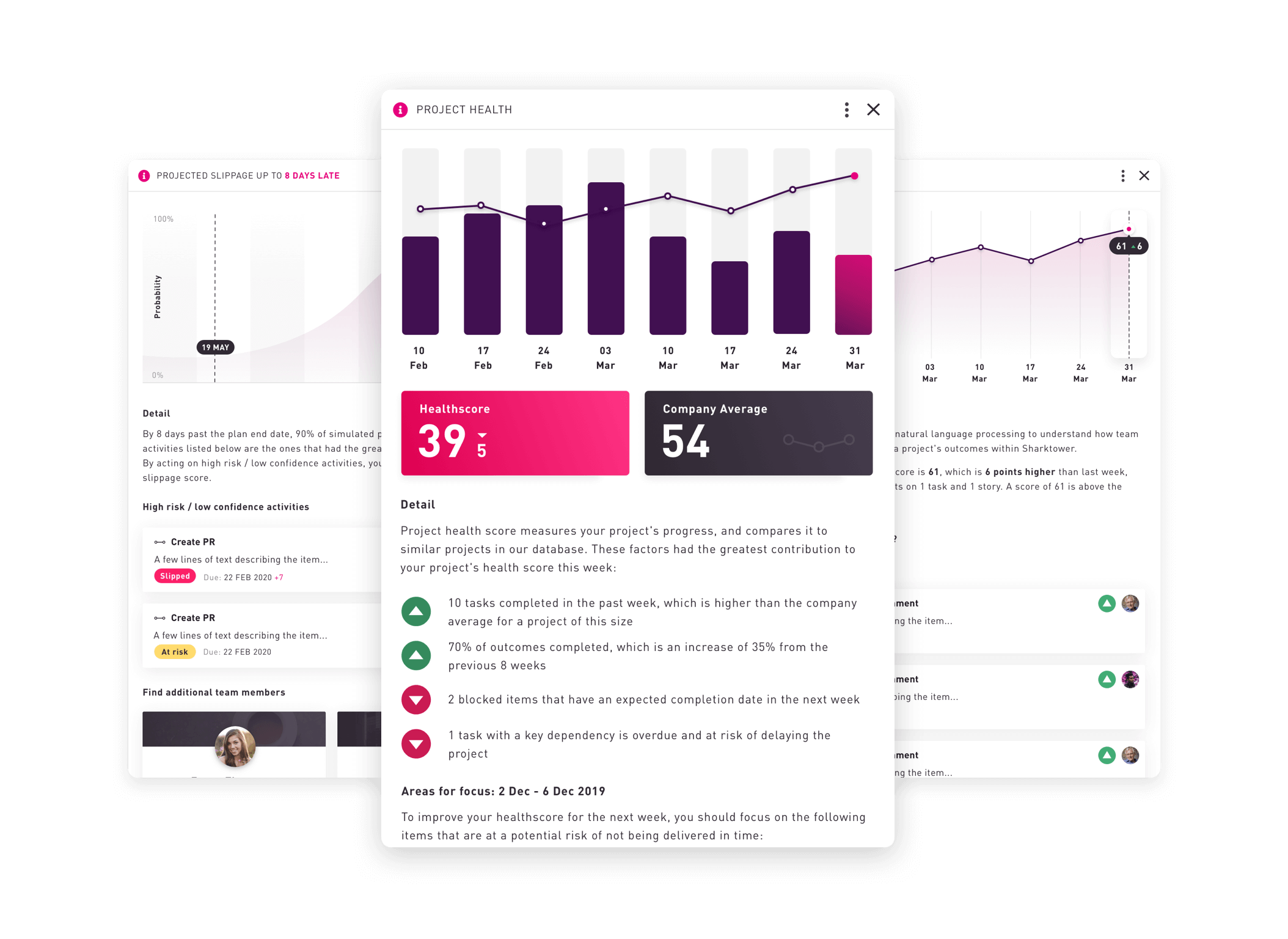 The health score looks at the movement of the underlying scope on the project, the amount of slippage in the plan, how people are interacting etc and aggregates this to a weekly score, accompanied by the key influences to that score. It is designed to be used as an indicator to help users identify where best to focus – it will not tell you all the answers or predict the future but it should help guide your attention."
Q5. Can Sharktower read plans from Gantt chart software like Primavera, Microsoft Project and Smartsheet?
"Well, that's how we used to do it, but then we developed our Delivery Map drawing tool, which is designed to be used like a whiteboard – like the days when the whole project team could come together in the same room and 'draw' out the plan.
So when we onboard our clients, we do that translation of current inflight projects into the Sharktower plan. But generally once you're up and running, we wouldn't expect you to have (or need) that secondary source of your plan data – all your plans should be drawn directly into Sharktower."
Q6. Data is notoriously manipulated by employees making sure only good news is reported. How does Sharktower deal with that?
"You're right, and that's what we try to address with the models and indicators that sit over the data in Sharktower. Instead of just the RAG status, Sharktower looks at the movement of other data in the system in order to work out what's actually going on. It can uncover those areas where people are trying to hide the reality of the situation."
Watch the full meetup!
View a recording of the session here:
See Sharktower in action!
For a personalised demo of how AI-driven project management software can help you get more out of your project data, REQUEST A DEMO or drop us an email at info@sharktower.com