In our introduction to the Sharktower Delivery Map, we discussed how to create a project plan. Now, let's look at how Sharktower helps you monitor and measure projects for better results.
How many times have you been a situation where the plan is approved, everyone rushes into project delivery, then before you know it, you're pulling all-nighters and dragging in extra resources to try to hit a deadline that's no longer realistic?
We've all been there. Ignoring warning signs and pressing on in the hope everything will turn out alright in the end. And sometimes, we don't see the warning signs at all until the project has failed.
According to PMI Pulse of the Profession report 2018, a staggering 48% of projects fail to finish on time and 42% overrun on budget. An effective system to continually deliver, monitor and measure projects can make the difference between success and failure.
Sharktower was built by project delivery experts who understand the key metrics you need. You don't have to consolidate project data from multiple systems because it's all right there in the Delivery Map, and you don't need to create reports because they're available in real-time to the whole business.
So when you give your teams Sharktower, they have a single source of truth.
Running a project – overview
To run, monitor and measure projects effectively, you need the basics in place from day one. That means making sure all tasks have owners, start and end dates, are linked to relevant dependencies and activities, and have key issues and risks identified.
In Sharktower, you can open a task, story, decision, risk or issue from anywhere in the Delivery Map or Kanban and change the status, ask for updates and decisions, and invite people to collaborate on tasks. You can also make sure all milestones are flagged as Outcomes and linked to the business objectives .
Sharktower's Delivery Map encourages the user to be outcome-focused and to really consider how they'll achieve each milestone, outcome or deliverable. The way the plan is drawn means even those without project management expertise can clearly see the order in which everything needs done, who needs to do it and how it all fits together.
"What a project manager knows is only as good as the data available."
– Susie Palmer, co-author of 'Project Management: it's all b*llocks!'
This then becomes your central anchor point and source of the truth for the scope and progress of the project – it can be used as a communication tool to run focused discussions in delivery meetings, to onboard new team members to the project and to convey dependencies to stakeholders.
Because everything is connected, any changes that are made are automatically populated throughout all of your plans and reports. The more data that's entered (and the more it's kept up-to-date) the greater the insights your business can derive from it.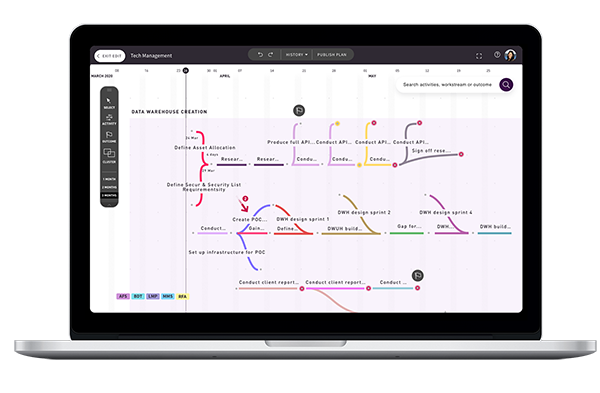 Sharktower's Delivery Map is the central anchor point and source of the truth
Monitoring and tracking
When you manage projects, you need an understanding of what's going on, whether through reports from your teams or checking how planned activities are progressing. For this to be effective, everyone involved in project delivery must be able to collaborate and have clear and open channels of communications.
To do that well, you need:
A project plan that any team member can engage with, drill down into the detail and understand their role and how everything fits together.
Task list or kanban – particularly useful for people who are managing their own tasks
Integrated messaging platforms like Microsoft Teams, where everyone can communicate directly about the project
A regular cadence of project status meetings and stand-ups to share progress, remove roadblocks and stay aligned, even remotely
Reports and dashboards to help reduce the time associated with collecting and compiling reports
How that looks in Sharktower:
The ground-breaking Delivery Map project planning and delivery tool enabling real-time collaboration and giving a clear understanding of the bigger picture and dependencies between teams
Drag-and-drop kanban board, where everyone can ask questions, log decisions, request updates
In-app messaging to comment on work items and ask for updates, mobile push notifications inform relevant people
Sharktower Meetings, the unique tool that stores actions and decisions within the plan.
Real-time reports aggregating all the data entered during project delivery to a level useful for all stakeholders (more about reports below)
Qualitative metrics
Much of project monitoring is focused on quantitative metrics such as activity status, budget spend, and burn rate, but equal focus needs to be given to qualitative metrics. One key metric is the happiness of the project team: after all, it's the people on the ground who really know what's going on: if they don't believe in the projects or are disengaged with it, you probably want to know
!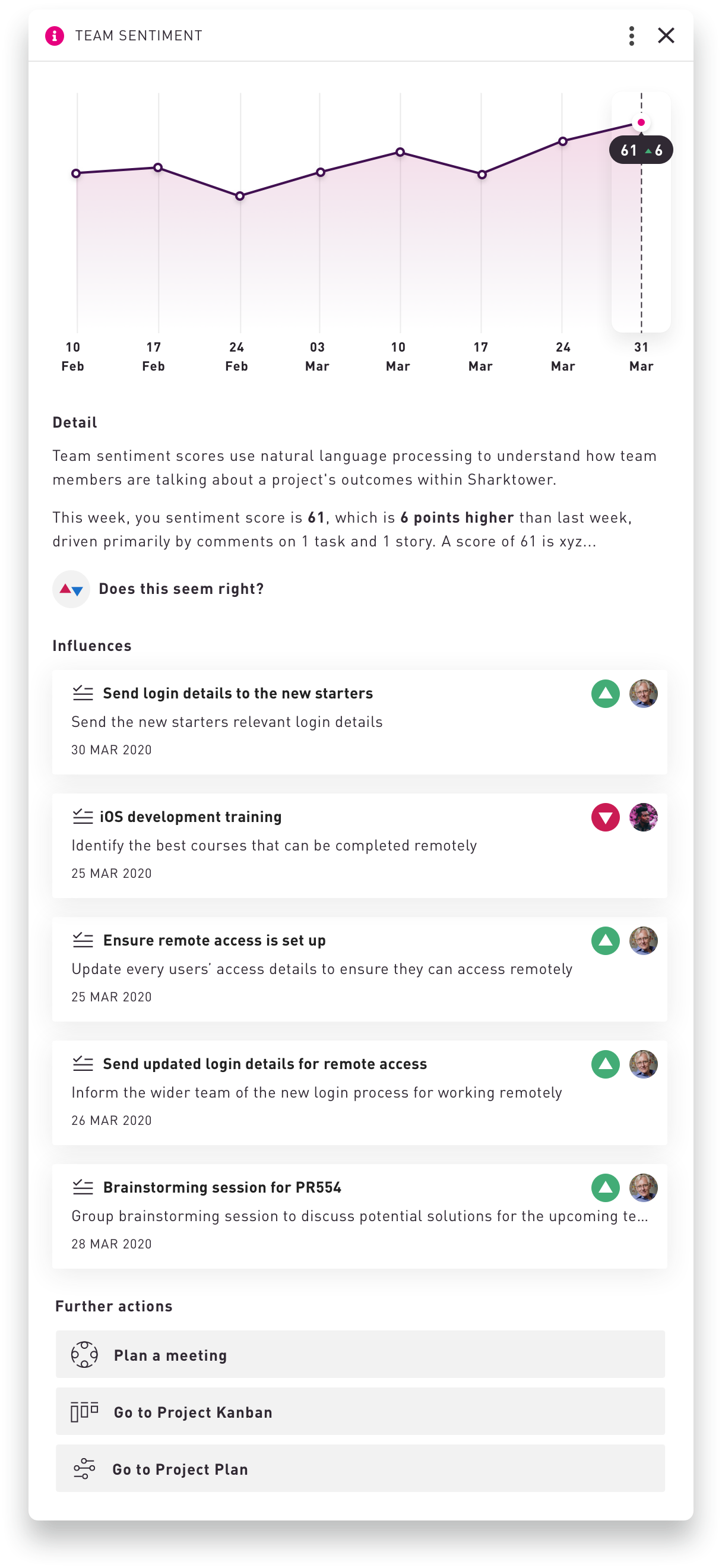 When you're overseeing several different projects, it can be difficult to spot problems with team morale, especially if you're all working remotely and there are fewer opportunities for direct engagement. Gone are the days when a small project team sat together, and it was easy to see how everyone was feeling. Sharktower helps recreate some of that close communication, with morale insights fed back automatically in the Team Sentiment score.
As team members comments on tasks, Sharktower can interpret the text within the comments boxes as an indicator of how a team member is feeling. The software uses natural language processing to create a team sentiment score that reflects team morale and provides an indicator to help project managers know where to look for potential issues.
Click on any Team Sentiment tile and it will reveal an 'explainer', which tells you how the score is calculated and gives suggested actions.
Measurement and reporting
Portfolio-level reporting
Portfolio reports should be simple, short and clearly structured. You have to be able to break down complex information into small, understandable pieces of info, with the added ability to drill down when you need to.
At the highest level, Sharktower's portfolio-style real-time reports enable you to view all projects and their status at a glance. The colour indicators also make it easy for decision-makers to judge if they need to seek out more information.
In Sharktower, each project is represented as a tile so you can easily see the following metrics and indicators.
| | |
| --- | --- |
| Metric | Description |
| RAG status | Often the only metric needed. Used to indicate whether the project is currently on track (green), at risk (amber), or off track (red) |
| Upcoming milestones | Conducting a simple milestone review lets stakeholders see actual progress versus what was expected |
| Number and status of activities | This gives you a bird's eye view of the progress of individual tasks and activities and another indication of whether the project is behind or ahead of schedule. |
| Progress in current and previous week | This can help indicate the level of activity and if the volume of work is slowing or as expected |
| Resourcing status | This shows you if there's a particular issue with the resourcing of the project (as we know there often is!) |
If you do have a lot of projects running in unison, you can concentrate on the information you need by applying filters. You can filter by RAG status, by portfolio, or you can search for a specific project from across all portfolios.
You can see how simple it is to build a story: something that would previously have taken some hours to collate and wrestle into PowerPoint slides for the weekly meeting (and by the time the meeting happens, your data's already out of date) . Even then, a senior stakeholder might simply need to know one thing – which risk needs their attention most?
With Sharktower, you can drill down to lower-level detail right then and there, giving stakeholders and programme assurance colleagues the context they need when deciding to support the project or not.
Another critical aspect we have learned after years of project management is the importance of objective project reporting, and the next level of reports contains ways to help you do that.
Project-level insights
At this level, you might be making hundreds of judgements and decisions about projects every single day, and you'll need metrics that indicate the overall status of all tasks and activities. Things like progress versus plan, costs, benefits, risks and issues, resources and customers. No wonder then that project managers spend so much of their time just chasing, collecting, checking and consolidating data before any decisions can be made!
Interpreting the data
If you're using traditional processes, you'll also need to be experienced in interpreting the data before you can recommend actions to ensure delivery is on time, on budget and on scope. In many cases, you'll also need to employ subjective judgement.
Key data points you'll need before you can recommend actions:
Overall status of each activity in the project by number completed, on track, at risk and slipped

Status of each activity across weeks or months by stage overdue, complete and due

Assessment of project performance based on activity status

Key risks and issues

Probability of slippage of planned versus projected end date

Estimated slippage and suggested actions to mitigate any risk
Or you could use Sharktower.
If you click on a project tile, you'll open a project overview with all the critical metrics, predictive analytics and insights you need available in real-time, and you can drill down to learn more about any metric that doesn't look right.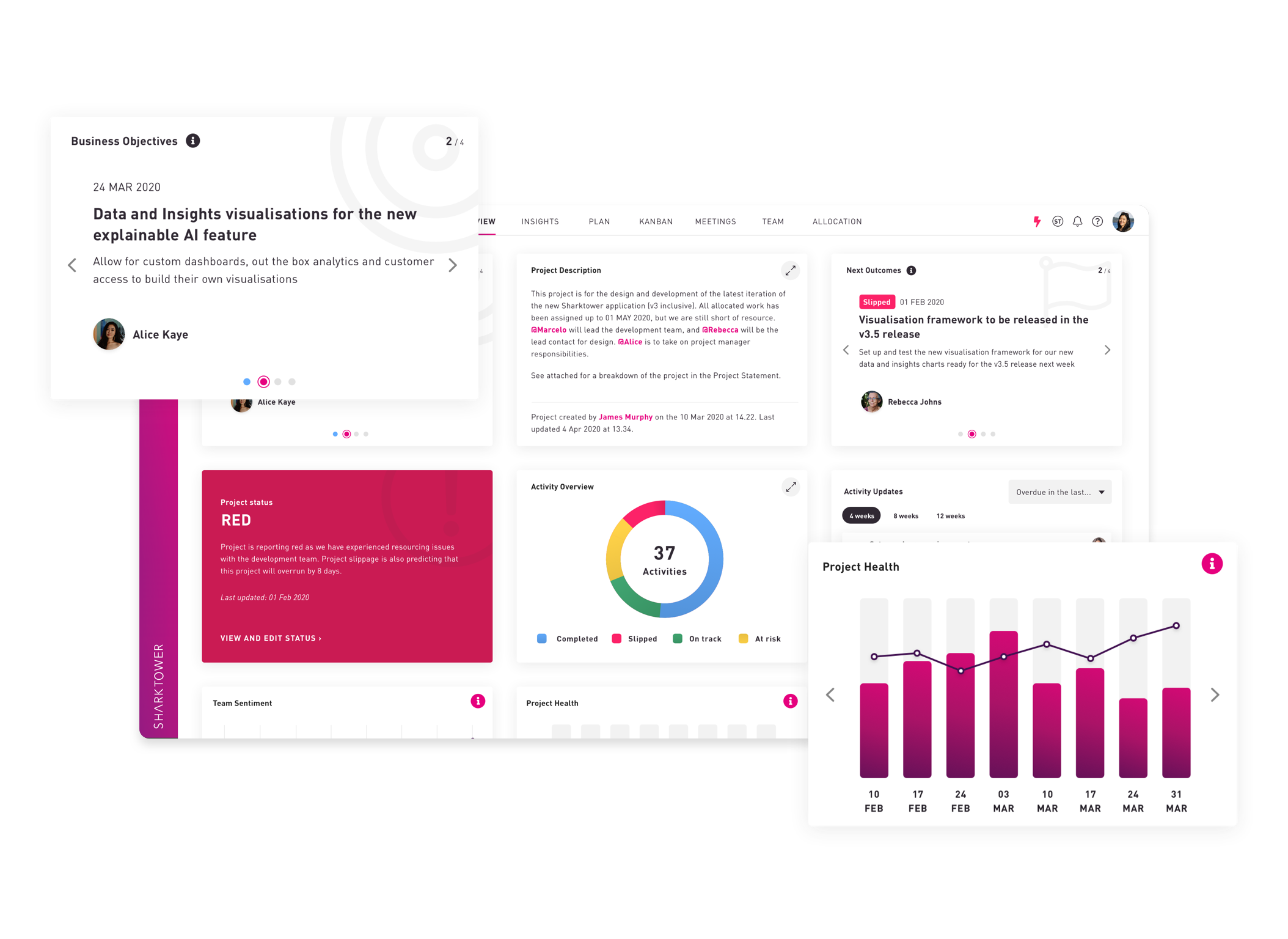 Summary checklist
By introducing AI-driven project management software, you can:
Consolidate all project data in one system

Make sure tasks and work items are always complete and up to date
Enable everyone involved in project delivery to collaborate and communicate
Create a regular cadence of project status meetings and stand-ups
Use real-time reports and dashboards to reduce the time spent compiling reports
Report on both quantitative and qualitative metrics
Create portfolio reports that are short and clearly structured, covering high-level metrics
Ensure you have sufficient, objective data points for project-level insights and recommendations
Engage everyone involved in the project for better visibility and accountability
Get a personalised demo
To book a 1-2-1 demo with one of the Sharktower team, just REQUEST A DEMO and we'll get back to you to arrange a time.