If you've been looking into project management software for your business, you'll know there are dozens of options out there. 
Most offer some form of task management and basic governance, but if you want a future-proof option that'll help build a data-driven culture, you need PM software with AI and machine learning at its heart. 
Let's take a look at common project management problems and how data-driven software can solve them.
Media reports are awash with articles predicting the future of AI. Some could be considered outlandish, such as Elon Musk's assertion that we're only five years away from being puppets of our AI overlords. 
At Sharktower, we take a less doom-laden and pragmatic view. Yes, advancements in AI are rapid and that trend will continue. However, we regard AI as our friend and virtual teammate. And in the world of project management, the 'future' has already arrived.   
But first, let's start with a sobering thought:  
Last year, Gartner predicted that by 2030, 80% of the work of today's project management (PM) discipline will be eliminated as AI takes on traditional PM functions such as data collection, tracking and reporting.   
We want to help you embrace this as an opportunity so that you don't get left behind. We passionately believe that an AI-driven approach in your business will empower you, not be a threat to your livelihood!   
In conversation with PPM leaders regarding Sharktower's AI and machine learning, we're often asked: "What does that mean to me and how will it make my life better?"
Here are the kinds of things we regularly hear:  
1. "OK, I've set up a plan. But

, 

being honest, its only useful for me

.

"
We hear  you, this a common pitfall. And the more complex the plan becomes – whether that be a spreadsheet or some other format – the less value it has for the project team and stakeholders.   
 A collaborative plan drawing tool is infinitely more powerful. A visual representation of your plan, driven by the real-time data. Where everything you capture, and the updates you make, are all helping the AI to learn and to provide you with predictive analysis and reporting.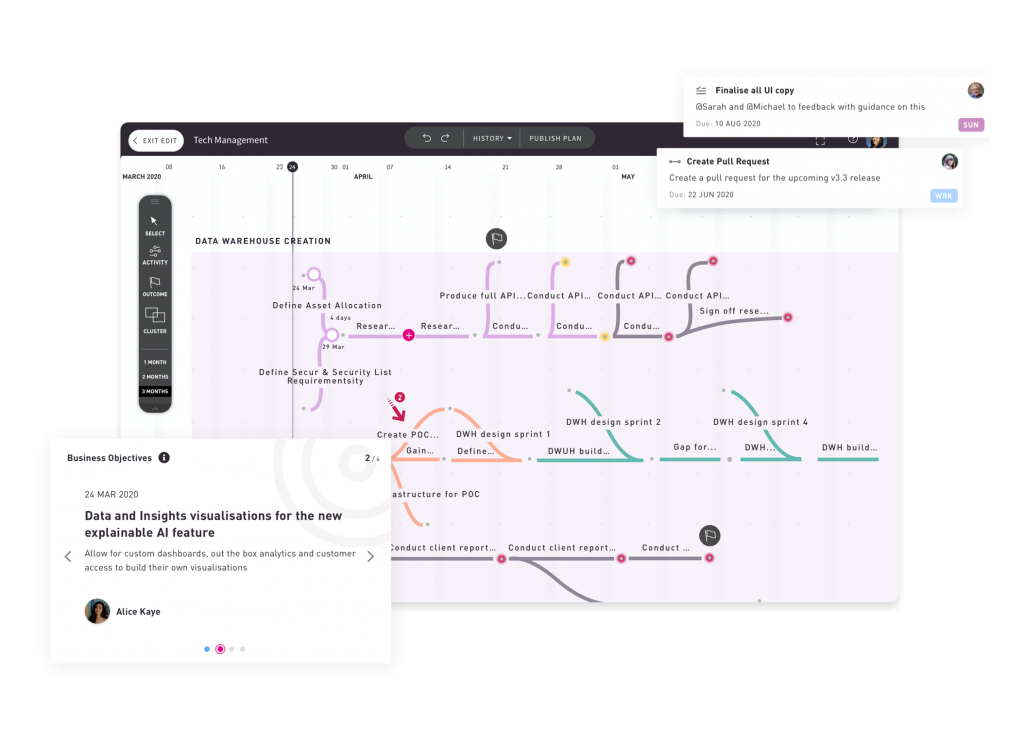 2. "I seem to waste a lot of time creating reports that are based on unreliable data."
We know, stakeholders want to see numbers. They want evidence of how projects are progressing. But you've got better things to do than tease all the data out of hundreds of lines of a spreadsheet. And worse, you then find out that your fancy dashboard has quickly become defunct.
Real-time reporting is the least you deserve; valuable insights from across your portfolio, all aggregated from the data you provide. And the more you put in, the more you get out: recommendations, risk alerts, instant notifications and dashboards.
3. "My team has loads of information related to our projects, but it's all over the place"
Consider all the bits of information that you record and the decisions that you make, the actions you agree, the risks you  identify. Where are they? We're guessing that you don't  know or, at the very least,  it'd take you a while to find out.
Imagine if everything, literally everything, was connected to your plan.  ALL your delivery data should, and CAN be accessed and stored in one place in an AI-driven environment. 
As the head of a program you can understand how things are progressing via a single source of the truth, all fed from the AI. Delivery managers receive alerts on areas of a portfolio that require attention.  Across the board, effective decisions can be made with the help of an impartial AI. Everyone is aware of their accountabilities, and there is an audit trail available.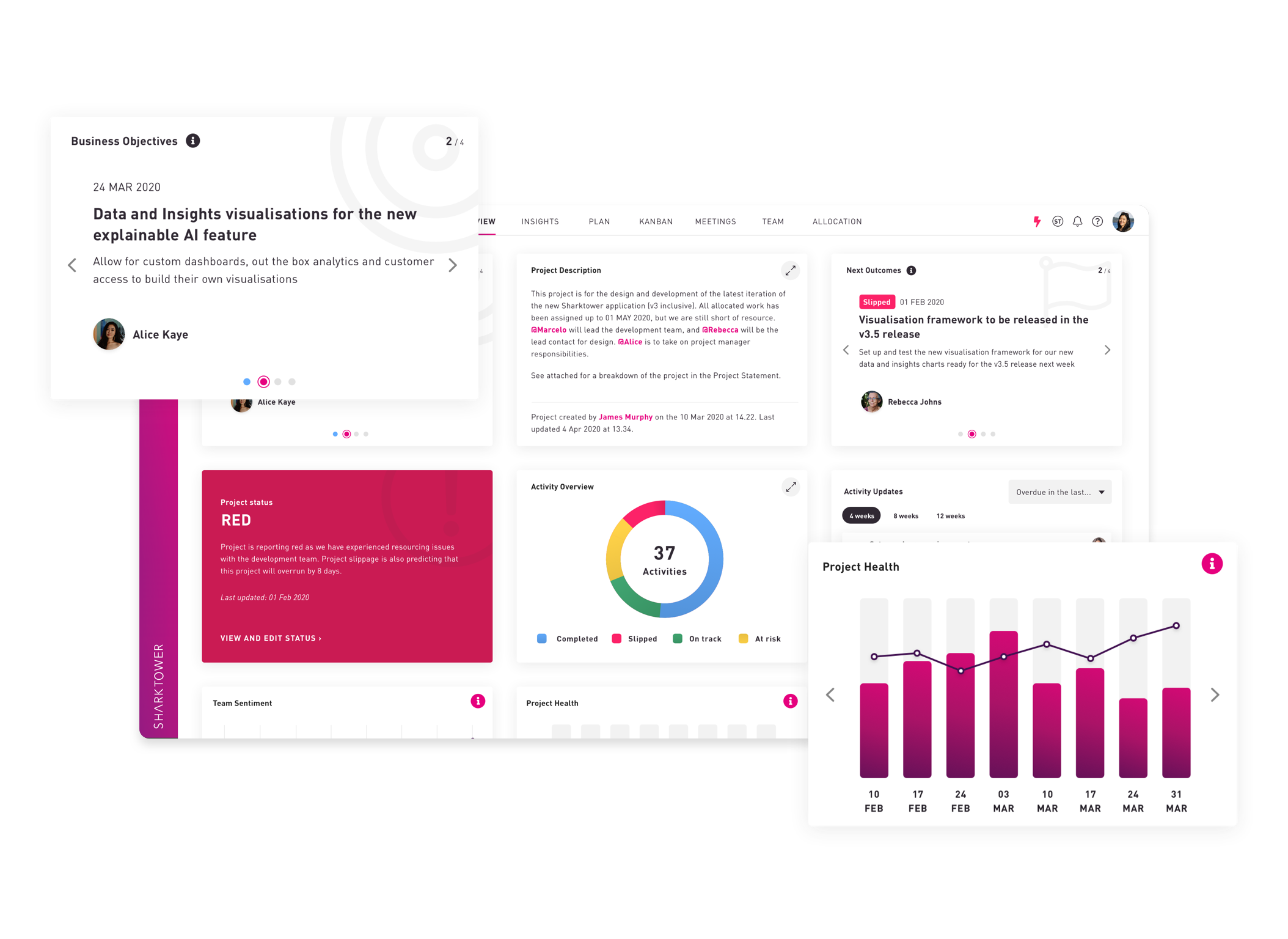 Sharktower's real-time reporting enables faster, more informed decisions
4. "We have business objectives, but no way to see how they relate to deliverables."
Yes, your business strategy needs objectives as part of the Objectives & Key Results (OKR) framework but how are yours working out for you? It's easy for a team to become disenfranchised if they don't understand – or even have visibility of – your business objectives.
In an AI/ML world, business objectives are directly linked to deliverables (outcomes and activities in your plan) so they're visible to all and set clear direction.  As a stakeholder you can drill down from objectives to see deliverables. And as a team member you're aware of  how your work is contributing to their success. 
Once again, this linkage and all its associated activity is aiding ML algorithms to recognise patterns and produce information such as project health and sentiment scores.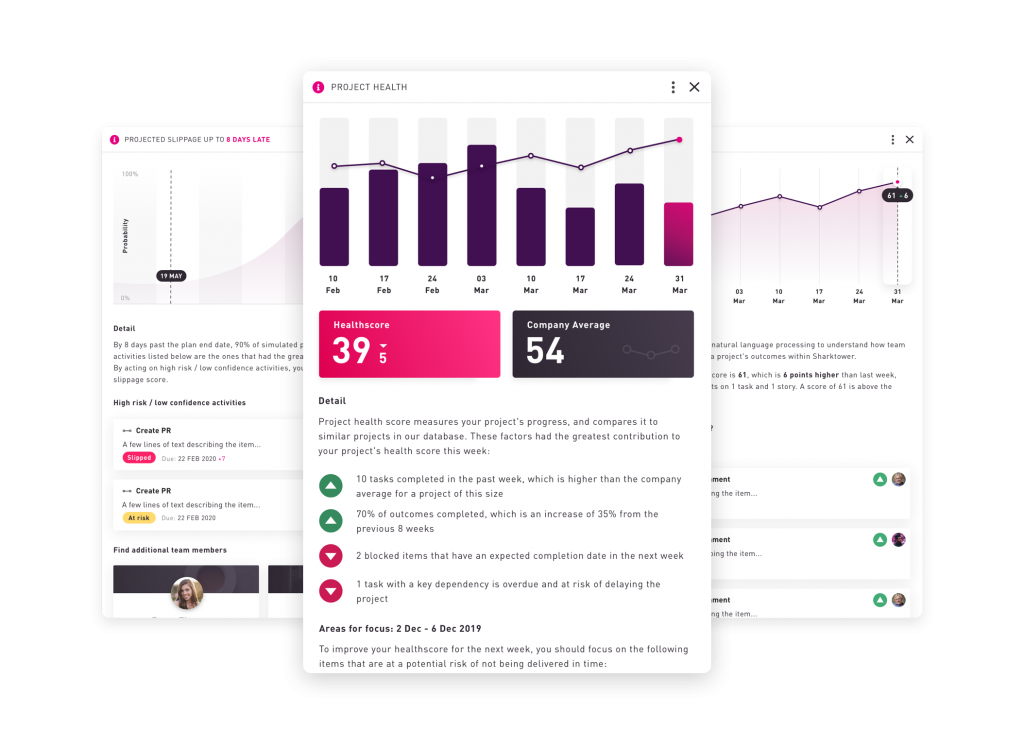 Sharktower's machine learning models use 'explainable AI' to highlight and explain problems
5. "With so much going on at all levels of our portfolio, how do we know where to focus our efforts?"
Frankly, you don't. Or at least it's not possible if based on gut instinct. 
AI-driven project management software serves up portfolio dashboards so you can view everything in one place. And with this bird's eye view you can immediately spot the areas that require attention.
What about individual tasks and competing deliverables? An AI assistant can intelligently suggest the work items that you should work on, and then let you pick the ones to address that day.
6. "I think I'm pretty good at making decisions and I'm  not sure I trust a 'machine' to decide things for me."
Unfortunately, 'pretty good' isn't good enough. No human is infallible and if AI is here to help then why wouldn't you adopt it? Don't think of it as an AI making the decisions; it's helping you make them – proactively rather than reactively.
Predictive machine learning models (like the ones in Sharktower) are trained on global and historic data to determine slippage probability. Our software analyses language used the platform to gauge team sentiment, enabling users to monitor morale even if team members are off-site.
So your decisions can be better informed, and based on Machine Learning, which empowers you to spot risks before they happen (just like a Sharktower!)
Ultimately, the problem Sharktower solves is that people aren't machines, and nobody wants or expects them to be. But in a world where projects are becoming ever more complex and continual, it's time we teamed up with our algorithm-based friends. 
See these features in action
For a personalised demo of Sharktower, REQUEST A DEMO or email info@sharktower.com