Just as every business is different, so is the data you need to make confident, pivotal decisions. That's why you need flexible reporting and insights that work for everyone – from senior stakeholders to the C-suite and investors.  
Get a different view of your data
Because Sharktower is truly collaborative (and intuitive to use), it captures and generates data continually: every time you or the team create and update work items, comment on tasks, update the plan and create outcomes. With this data, you can view meaningful reports that drive real business value.
The more data Sharktower contains, the more powerful the insights. That's why our licensing model includes unlimited users and unlimited data forever. When everyone feels empowered to use and update the platform, you get a single source of the truth. No more siloed information or second-hand status reports – everything is there in real-time.
What's included
Project reporting in Sharktower gives you a visual, easy to read overview page showing the most important information across your project portfolio.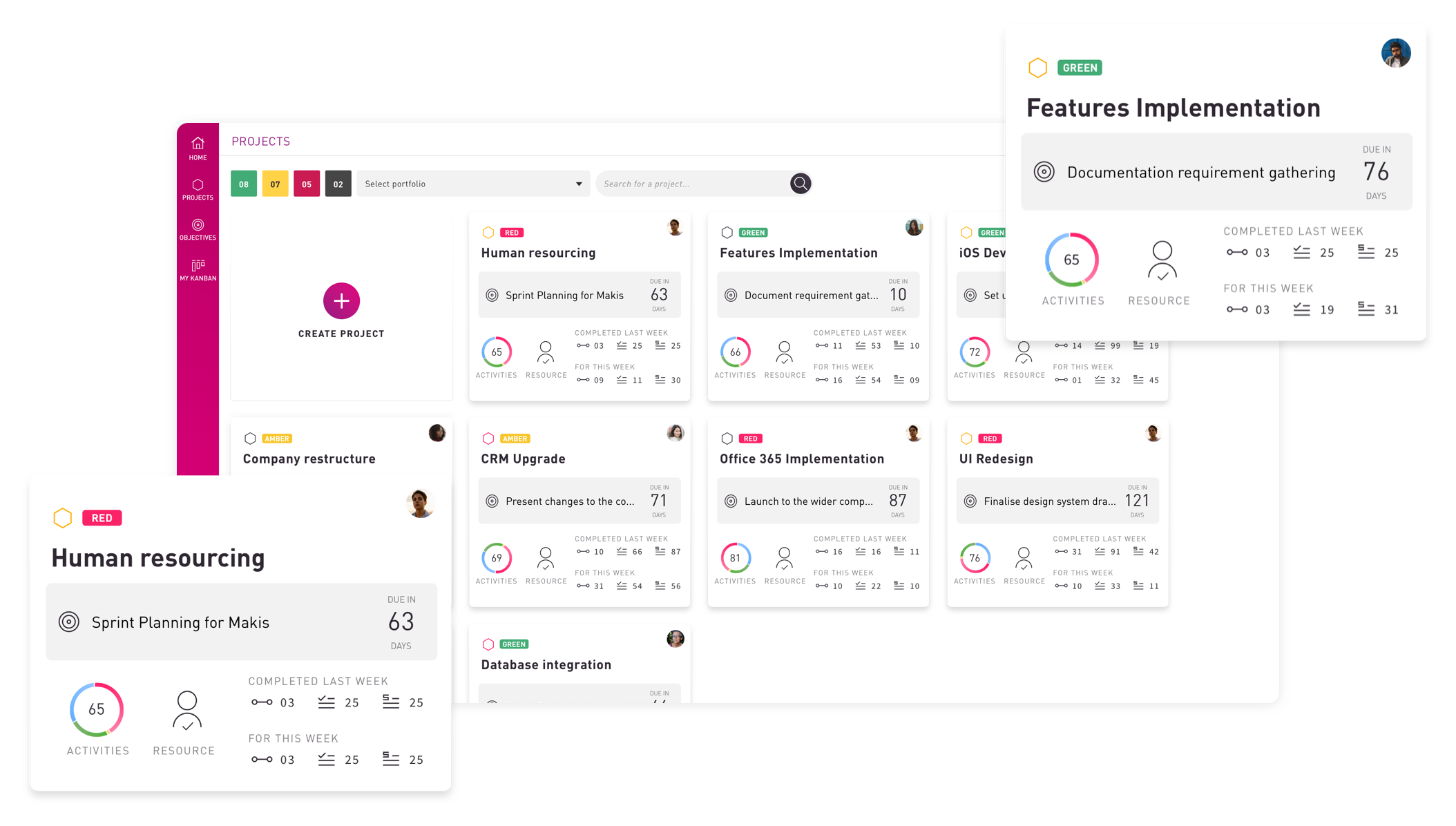 Get an overview of the key information across all projects
We analysed the most common parts of a highlight report and designed the overview page to include things like RAG status, upcoming milestones and work completion overview. This means stakeholders are able to conduct live delivery assurance across all of the projects in that portfolio.  
If you see a problem area you can easily drilldown and get the context. Much more useful than a static, out–of–date PowerPoint or spreadsheet which takes hours to create and update, and leads to additional meetings/emails to find out the real context of issues.
What it solves
Need to understand a high-level timeline of key milestones? Yep, got that.
Need a list of recently completed or upcoming activities? Done.
What about the activities that slipped? Just drilldown into the plan and read the commentary to understand the impact of the slippage on other dependencies in the plan visualisation tool.
In Sharktower, all of your data is connected and feeds into the project health and team sentiment AI models, so you get an unbiased view of how the project is performing.   

With Sharktower, all of your project data is connected in one place
What if you have strict reporting governance?
We understand that your business will have customisable reporting requirements, and it's not easy to manage and change those expectations overnight – especially at board level.  
So we can work with you to provide further support to replace your manual reporting. Whether that means help integrating Sharktower delivery data into your existing reporting or by designing and building tailored portfolio dashboards in Sharktower that allow you to ingest external data such as finance or quality information. It's your job to deliver value and not shuffle reports, so let Sharktower do that for you. 
Whichever systems your business captures data from, what matters is that the data makes sense, is in real-time and works for you.  
See Sharktower in action
For a personalised demo of real-time project reporting that can integrate and show the bigger picture, REQUEST A DEMO or drop us an email at info@sharktower.com