How it works: managing project budgets in Sharktower
Posted by Team Sharktower on February 16th, 2021
In previous blogs, we've talked about how Sharktower can help you create interactive project plans, manage resources more efficiently and connect all the working parts of your projects in one platform.
But when the overall aim is project and programme-wide success, of course we have to talk about budget management. Because whatever the route to a better outcome, watching the numbers will always be central to it.
Here's how Sharktower helps project leaders switch up budget spreadsheets for a smarter, simpler tool.
So as we've already mentioned spreadsheets, let's talk about those first. If you're used to spreadsheets – and a bit of an Excel expert – you might love them. And hey, each to their own.
But as change and transformation programmes pick up (which they are doing across almost every business), keeping track of multiple spreadsheets in different formats becomes risky and time-consuming.
Sharktower's cost forecasting and budget management feature has reimagined the spreadsheet and nestled it neatly in the same platform as project planning and resource allocation.
So not only can you spot potential issues at-a-glance, you can easily cross-reference your costs against other project metrics.
What it looks like
The simple interface lets you monitor your budget over the course of the project so you can quickly identify variances and course-correct when necessary.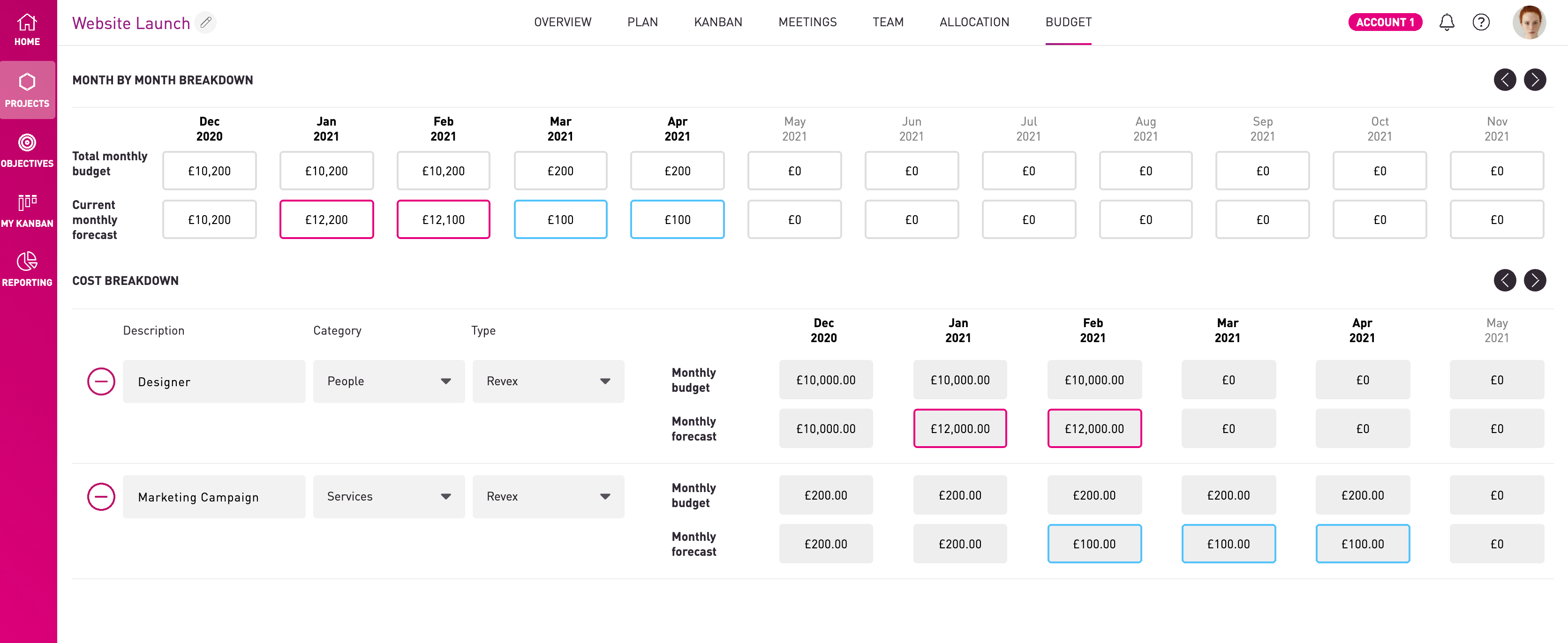 Sharktower's cost forecasting and budget management tool is a smarter, simpler alternative to spreadsheets
By breaking the project budget down into different categories, you can quickly identify cost overruns, issues with resource allocation, and inaccurate estimates.
Each category can be given its own 'cost line', and you can add as many cost lines as you like within each project.
Just click 'Add cost line', then you can enter a description, category, and type, before putting in your monthly budgets and forecasts.
Like this:

Add a new cost line to any project with just one click
If you're forecast under budget, the cell will display a blue outline, if you are forecast over budget, the cell will display a pink outline (see the zoomed-in view below).
The values entered in each cost line are automatically calculated and updated in the month by month breakdown view.
It looks like this:

Colour-coded cells immediately identify when a project is forecast over or under budget
Viewing the data
Once you've entered the budget breakdown for a project, you can view the total project budget, the current forecast and the delta in the summary tiles (see below).
You'll also see the cumulative budget and forecast over time in the graph as shown.

View totals and cumulative figures at a glance
What it doesn't do
As a collaborative project management platform, Sharktower is designed to enable clarity and transparency, but it doesn't contain sensitive information. Data such as payroll, invoicing and time-recording should continue to be stored and managed in your dedicated HR and finance tools.
Reques

t 

a

demo

 
Whether you'd like a personalised demo of the budget feature or just more information about project management software, drop us an email or request a demo!