Bloomberg's recent study of 3.1 million workers' meeting and email metadata shows that we're spending 13% more time in meetings since the pandemic.
Gone are the impromptu gatherings; discussing updates at the coffee machine or popping by someone's desk to ask a quick question. And yet, while the average meeting time dropped from 1 hour to 47 minutes, the average meeting count rose from 5.9 meetings to 6.9 meetings. That's an average of 5.5 hours of meetings every week!
If you are managing change and complex projects, many of your meetings will be to discuss the status, actions, and decisions relating to those projects. So how do you make your meetings more effective?
Here are a few of our top tips – featuring the unique Sharktower Meetings tool.
1. Identify risks and issues before the meeting
With an online meeting tool, you can prepare for the meeting beforehand by identifying risks or discussions you need to focus on and adding them to the agenda, and requesting that the project team ensure their tasks are up-to-date.
With Sharktower, team members can keep each other posted, request updates and capture decisions directly within tasks and activities in the project plan (a benefit that not only remote, but also co-located teams enjoy).
2. Use a timer to keep things on track
No matter how much you try to keep meetings on track, time can quickly disappear. When you launch a meeting in Sharktower, a visible timer begins, so everyone in the meeting can see exactly how much time has passed (and how much is left). It's a great way to keep people aware of time without the host having to rush things along.
If you're meeting via video, you can also make it easy for everyone to keep up and engaged by splitting the screen and sharing the project plan on one side and the team on the other. Nominate an attendee to take notes live during the meeting, then – with Sharktower – you can circulate the meeting summary to people who weren't able to make the meeting – so no need to update them individually.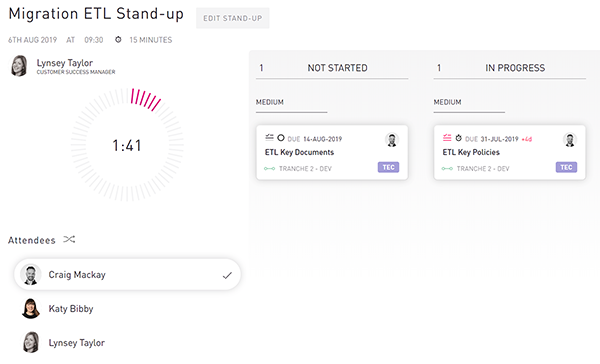 Sharktower's Meetings tool includes a timer to help keep things on track
3. Start the meeting by discussing blocked actions
Start with problem areas that need immediate attention. For instance, if there's an item that should have started already, find out why it hasn't – what are the blockers, what are the related tasks? Can we talk through what would help unblock your task? What are the implications of you being blocked? Do we need to reallocate or replan in any areas?
You will inevitably find that some team members haven't updated their actions before the meeting, so you might find in the meeting that it is actually done and you get a better view of the project.
"Sharktower helps push the pace of delivery because the Kanban encourages you to simplify things, but at the same time you can relate it to the bigger picture."
 Colin Jarvis, Delivery Manager
Looking at these sorts of updates and understanding the current actions is best done from the Kanban board. The next part of the meeting is best managed from the Delivery Map, especially where you have complex programmes with a lot of dependencies between different teams.
4. Continually refer to the project plan
You've probably been there: sitting with a team of 10 people poring over a 1000-line MS Project file, trying to pick out dependencies and blockers. Or looking at a plan that's so high-level you can't discuss the detail. Frustrating, right?
Sharktower's Delivery Map gives everyone a visual representation of the whole project, making it easy to understand the different phases and how all the activities are connected.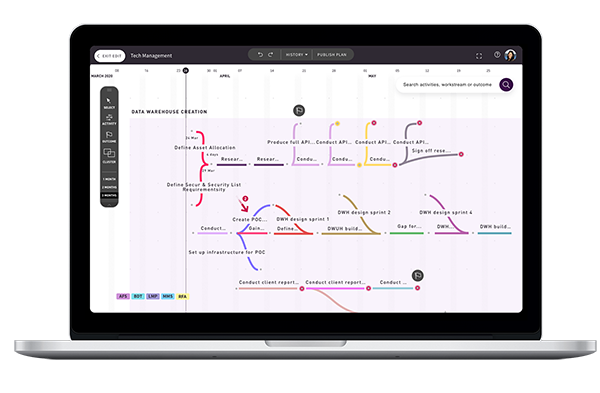 The Delivery Map enables you to view the whole project then zoom in for more detail
Navigate by running down the 'today' line and zoom in and out to view the detail workstream-by-workstream. If you start by looking back to the previous week, you can see if any milestones have slipped. And because the plan is visual, it's easy to spot any dependencies that will be affected.
It means you can ask everyone then and there what the knock-on effect will be, and what can be done to rectify things. And if you can't establish the answer immediately, then an action can be raised in the plan.
5. Make sure follow-up is immediate (and specific)
So you've brought the team together, focused the discussion and agreed a series of tasks. Great! Now you have to spend an hour updating your plan, allocating the tasks and informing the owners (not so great).
Sharktower helps there too.
With the Kanban open in the meeting, you (or a colleague) can capture tasks and decisions directly in Sharktower. No more relying on attendees to note down their own actions: when you end the meeting in Sharktower, a summary of all discussions, key decisions and actions – with owners – is sent out via email. This helps ensure everyone has the same understanding of what was agreed and you have it all recorded in an audit trail.
From the email summary, you can click through directly to each item in Sharktower (particularly useful for senior stakeholders who want to access that info quickly).
6. Consider daily stand-ups for the whole business
Software engineering and developer teams have been using stand-ups for years, and we've used them across the whole of Sharktower since day one. Stand-up meetings are a structured and fast way to get a good sense of what's happening with the team, coordinate work, and remove any blockers. Even better, they work really well over video conferencing for remote teams.
It's typically a 15-minute meeting held every morning, and everyone answers three simple questions:
What did you do yesterday?
What will you be doing do today?
Anything blocking your progress?
To keep stand-ups focused, make sure only one person speaks at a time and for not too long. With the short time frame, everyone needs to share high-level or important information as concisely as possible.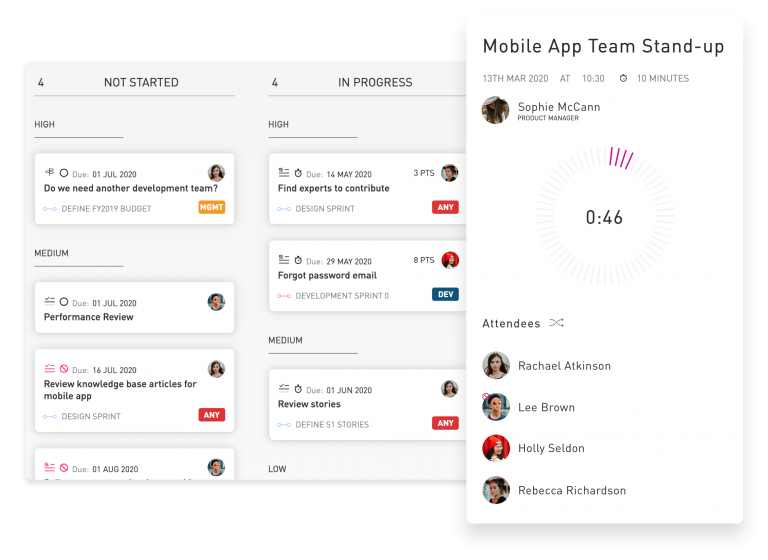 Sharktower's Meetings tool lets teams run stand-ups directly from the project plan
Our own experience of running stand-ups shaped how we built the Sharktower Meetings tool, which lets teams run stand-ups directly from the project plan. That means you don't have to think ahead about what will be discussed because the agenda items are directly related to tasks and activities in the Delivery Map.
There are loads of tips for running effective stand-ups, and we reckon The Scrum Guide is a good place to start.
7. Don't track your projects in Excel!
When we talk to project leaders, many of them are still using Excel or google to capture project information, then attaching those documents to emails for the whole team to review and update.
We understand why people do it – it's how things have been done for years – but it means project managers have to spend hours of time gathering and consolidating every updated version, manually copying and pasting data from one place to another and back again. It's slow, it's tedious, it's error-prone and the updates are always behind schedule.
When you adopt software like Sharktower, your team can update their tasks directly in the platform, so that data you need is always in one place. No pre-meeting prep required! Just launch the meeting, open the Kanban and jump straight into the detail.
So that's how Sharktower makes team meetings easier. But how about Stakeholder delivery meetings?
Watch a walk-through

Our Walk-through Wednesdays are a great way to see Sharktower's features and tools in action. Watch this demo to see:
How to review progress against your project plan
How to deal with blockers
How to capture decisions and actions during the meeting
Book a personalised demo
To book a 1-2-1 demo with one of the Sharktower team, just REQUEST A DEMO and we'll get back to you to arrange a time.